Passionate pond contractor professionals serving Charlotte, NC
Let Your Stress Melt Away
Your backyard is an essential part of your home in Charlotte – it's a space where you get to relax and escape the complexity of modern life. When you add a body of water to your outdoor space, you'll bring soothing sounds to your property that offer you peace and serenity.
Next time you're having a hard day, imagine stepping outside and enjoying the paradise in your backyard. Let your worries fade away and tune in to the sounds around you. Hearing birds chirping, water bubbling in the wind right in front of you, and your loved ones having a good time will be your new way to unwind and decompress.
You can have all of this by using our pond contractor team for your water feature project.
A Thriving Ecosystem Right OUtside Your Charlotte Home
In an increasingly urbanized environment, it's essential to take time out and connect with nature – it's great for the body and the mind. Instead of seeking out a public park or a preserve, wouldn't it be great to bring a piece of nature right into your own backyard?
Ponds are the perfect way to introduce the wonders of nature to your personal life. From bathing birds to hopping frogs, your local ecosystem will thrive! The pond will become a home and a bathing spot for small creatures in your corner of the world.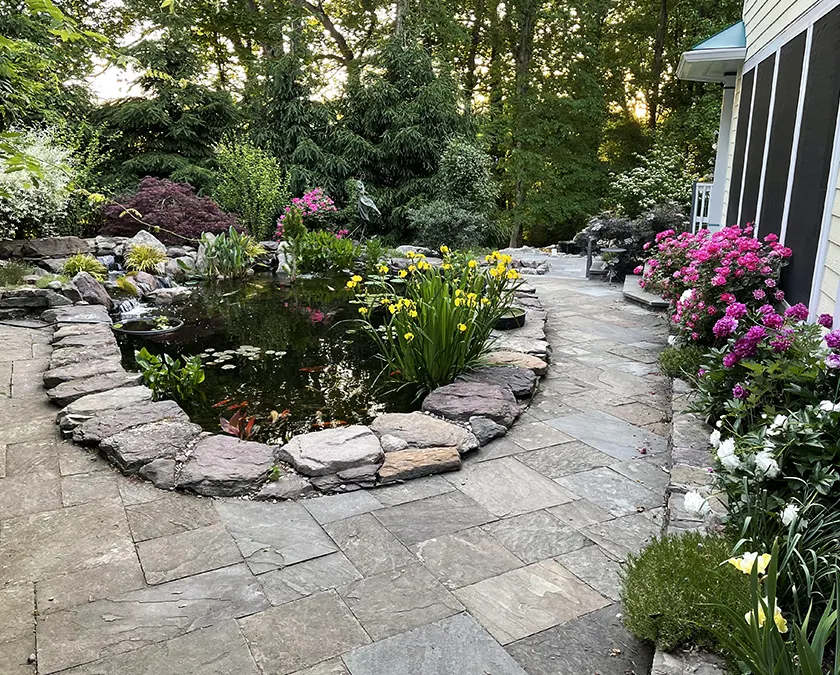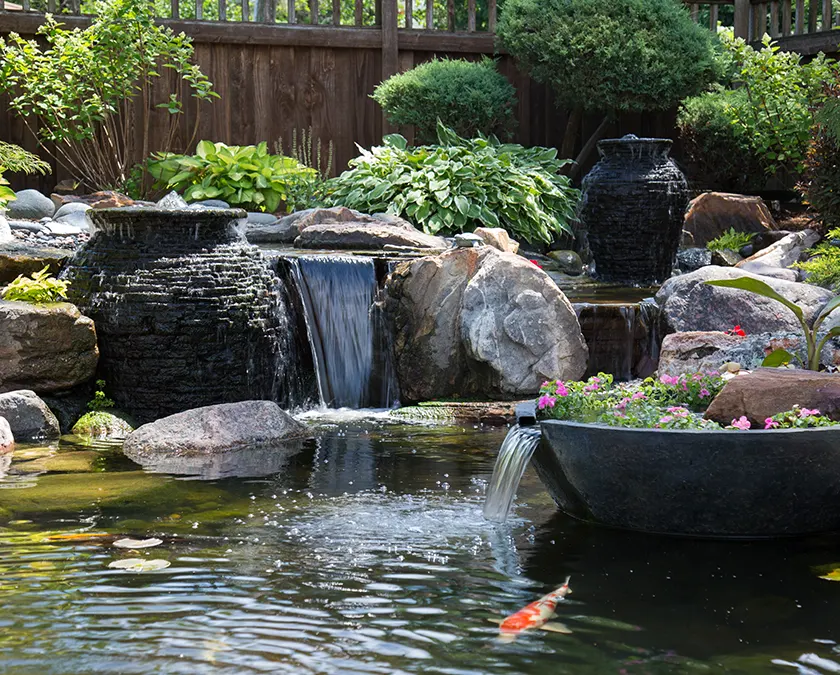 ENJOY A HEALTHY, BEAUTIFUL POND ALL YEAR LONG With The Right Pond Contractor
Having your own pond and enjoying the beauty of nature is a fantastic thing. You get to enhance your Charlotte, NC, property, your landscaping, and your everyday routine like never before. But in order for you to enjoy your pond all year long, some maintenance is required.
Whether it's caring for your wish, cleaning algae and fallen leaves, or checking your equipment, pond maintenance is a must. It's not a complicated job, but it can be time-consuming. In order for your pond to thrive, we recommend always having it cleaned by a professional pond contractor. Regular maintenance will ensure your systems stay in top shape and your pond will always be ready to impress.
Our Pond COntractor Services In Charlotte
Whether you inherited a pond or you want to enhance your outdoor space, we're here to help.
WHy We Chose to Be A Pond Contractor In Charlotte
Here at Charlotte Backyard Ponds, we want to give you more than just the perfect pond; we want to create a long-term relationship in which you feel heard, valued, and understood. That's why we treat all our clients as friends and hold their property and interests at heart at all times.
Our passion for the process and our desire to give you a positive experience are why we started this company. For us, each project is essential, and it lets us experience how a pond can change a family's relationship with their yard.
We take great pride in our work as pond contractors and enjoy the craftsmanship that goes into every design. This means we always bring our best foot forward so that your pond is nothing more than perfect.
An Easy Process To Your Perfect Pond
We're excited to turn your Charlotte backyard into a place where you can relax and recharge. The addition of a pond to your home may seem like a big challenge, but we've designed a simple process that guarantees a stress-free experience. Sit back and enjoy how easy it is to transform your home into an oasis.

Fill out our form and describe your ideas the best you can. We'll get back to you with a phone call and discuss your budget, the timeline, and set up an on-site consultation.
Step 2. We Work Our Magic
When everything is in place, we get to work. Our pond contractor team will bring your vision to life and give you the backyard experience you deserve. While we work on your landscape, we'll always keep you in the loop.
Step 3. Love Your Home's Outdoors
When our work is done, we'll do a walkthrough to present your pond to you and check if everything is perfect. Next, we pack up and let you enjoy your newfound oasis.
Charlotte Pond Contractor FAQs
Here are the popular water feature questions homeowners in Charlotte ask our pond contractor team:
How do you build a pond from scratch?
Designing the pond
Marking out the boundaries
Placing the skimmer, biofalls, and plumbing
Hooking up the BioFalls
Digging out the pond
Installing the underlayment and liner
Hooking up the skimmer(s)
Placing rocks and gravel in and around the pond
Installing underwater lights
Installing the pump and skimmer parts
Washing off rocks and pumping out dirty water
Beginning to fill your pond
Building the waterfall
Putting together biofalls
Tweaking the waterfall once the pond is full enough
Trimming or disguising the liner
Cleaning up
Potential Next Steps:
– Purifying the water for fish
– Landscaping or planting aquatic plants
How long does it take to build a koi pond?
Building a koi pond can take anywhere from 4 days to 2 weeks. This mainly depends on pond size, pond depth, additional features, weather, and the tier of pond contractor you hire.
Is it expensive to build your own pond?
When it comes to a DIY pond, those usually cost $1,000 or less. This is because homeowners usually don't have the expertise of pond contractors nor the time and energy to build a grand water feature. Most DIY ponds are plastic pre-formed shells that are sunk into the ground.
Do backyard ponds increase home value?
Yes, backyard ponds can increase the value of a home. However, the increase in value will depend on the quality of the pond and its features. The value increase will also depend on the specific pond and the preferences of the buyer.
Here's What Our Customers Say…
Growing around ponds and being involved with ponds our entire lives, we are perfectionists and we take a lot of pride in our work. Have a look at what other homeowners like you have to say about working with us.
Create The Backyard Of Your Dreams With A Pond Designed FOr You