A Friendly And Passionate Team Eager To Bring You The Pond You Deserve
Passionate professionals serving Charlotte, NC and surrounding areas
I'm Thomas Shinholser (TJ), and I'm the owner of Charlotte Backyard Ponds. I started my business because I wanted to share the beauty of ponds with as many people as I can. My father owned a pond company in Maryland for as long as I can remember, so me and my brothers grew up living the pond lifestyle. I gained my experience working as a foreman for my father for several years. After learning everything I could, I decided to set out on my own and start my pond business in North Carolina.
My passion for nature is in my blood. I am driven by a strong desire to give you the pond you deserve, but I also like to have some fun in the process! I deeply value my relationship with my clients, and I am always looking forward to bringing some positivity into their homes. When you work with us, you can expect quality service and an enjoyable experience from start to finish.
Charlotte Backyard Ponds is a company that puts the client first. Our top priority is your satisfaction. We want to give you the result you desire so that your backyard can bloom.
We treasure each project, and we love seeing you smile after our job is complete. You can expect us to be there for you and to communicate openly at every turn. Your trust in us is something we don't take lightly, and we go to great lengths to see you happy.
Let's transform your backyard and give you a pond that improves the way you spend your time and helps you reconnect with your loved ones.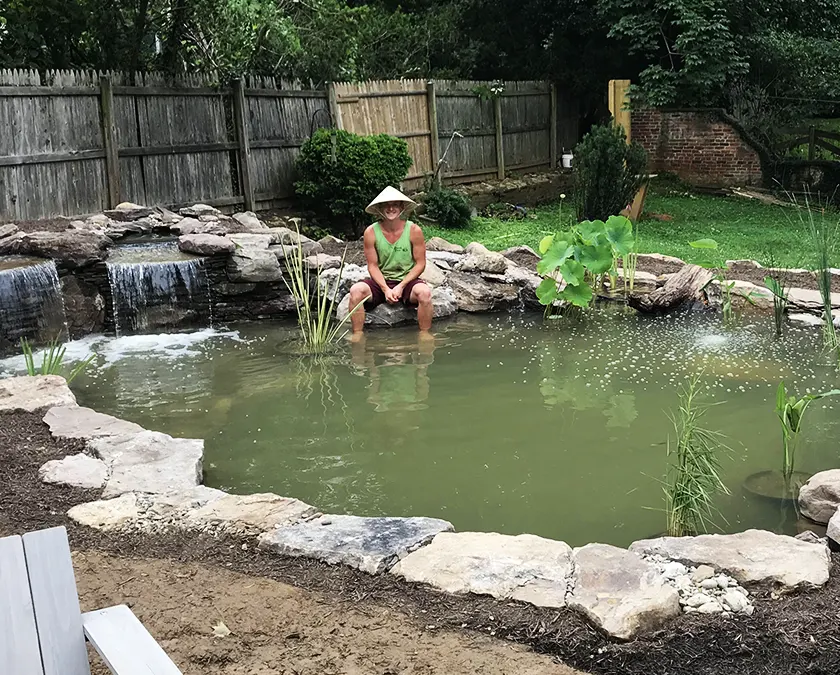 Here's What Our Customers Say…
Growing around ponds and being involved with ponds our entire lives, we are perfectionists and we take a lot of pride in our work. Have a look at what other homeowners like you have to say about working with us.
A Trustworthy Team Ready To Serve You