Expertly Crafted Outdoor Living Spaces In Charlotte, NC
Entertain Your Friends And Family In A Fashionable Outdoor Living Space
Passionate professionals serving Charlotte, NC and surrounding areas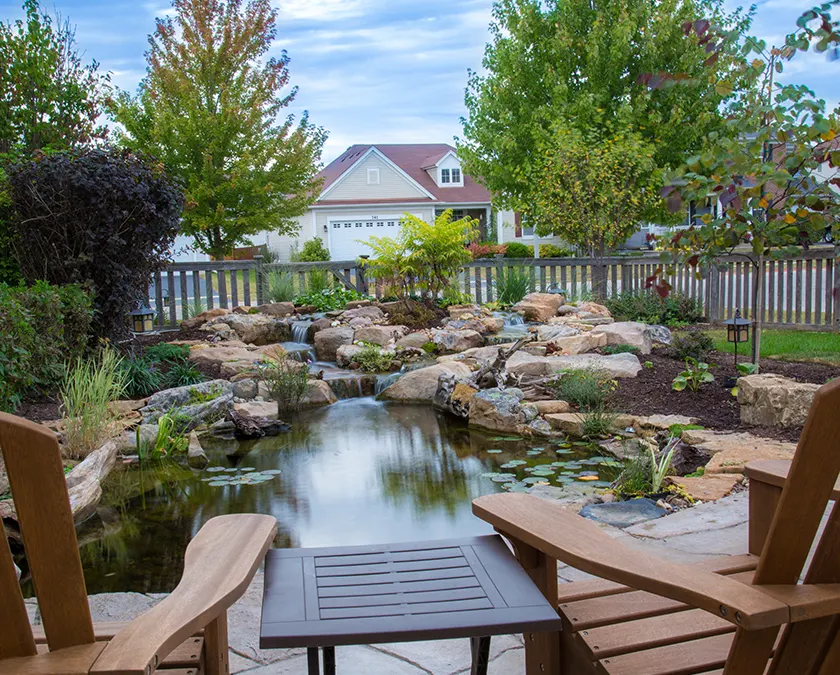 Enjoy Fresh Charlotte Air In A Cozy Setting
Being outdoors is a general mood booster, and any moment spent outside improves your wellbeing and state of mind. If you prefer to stay a bit closer to your Charlotte home, then a pond is a great way to bring nature right to your doorstep.
An outdoor living space brings you the best of both worlds: the practicality of a patio and the serenity of a water feature. Whether it's a small paver patio with two chairs for you and your partner or a complex outdoor setting for your entire family, your home landscape has infinite potential.
Get ready to relax and enjoy nature every day. Next time you'll want to drink your coffee in the crisp morning air or watch the starlit sky at night, you'll have a great spot to do so.
Spend Quality Time With Your Loved Ones
Your home's backyard is like a fresh canvas waiting to be brought to life. If you're looking for a place outside to entertain your family and friends, then a prime outdoor living space is what you need. 
Everyone loves spending time in nature and outdoor gatherings never fail to impress. Start pouring some cocktails and let your troubles pass while you're surrounded by your close family and friends. 
Think of all the things you could do if you had the backyard that you deserve. From playing with your kids to throwing barbecues and relaxing in private, there's plenty of fun for you in the Charlotte outdoors.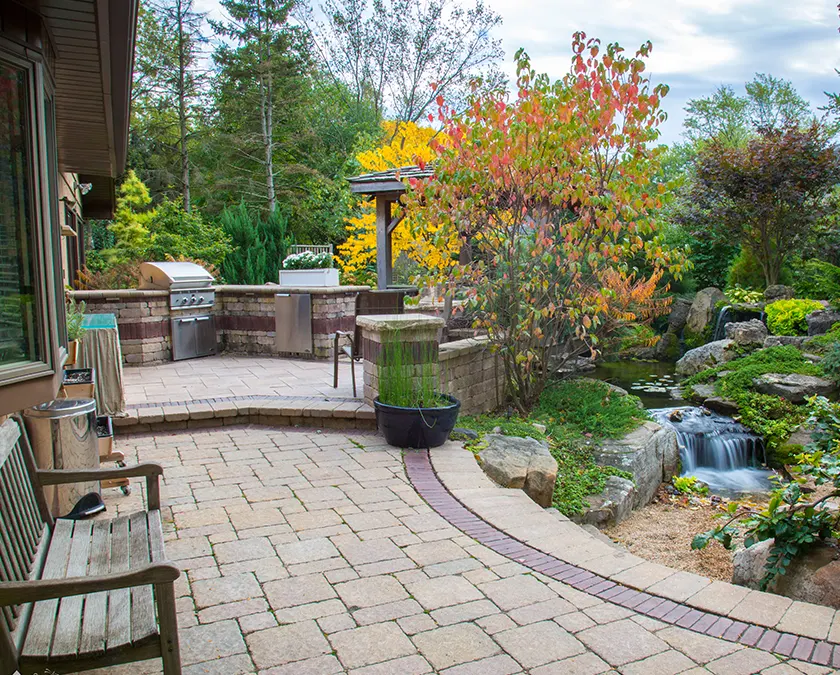 An Easy Process To Your Perfect Backyard
We're excited to turn your backyard into a place where you can relax and recharge. Building an outdoor living space is a complex undertaking, but we've designed a simple process that guarantees a stress-free experience. Sit back and enjoy how easy it is to transform your home into an oasis.

Fill out our form and describe your ideas the best you can. We'll get back to you with a phone call and discuss your budget, the timeline, and set up an on-site consultation.
Step 2. We Work Our Magic
When everything is in place, we get to work. Our team will bring your vision to life and give you the backyard experience you deserve. While we work on your landscape, we'll always keep you in the loop.
Step 3. Love Your New Outdoor Space
When our work is done, we'll do a walkthrough to present your outdoor living space to you and check if everything is perfect. Next, we pack up and let you enjoy your newfound oasis.
Charlotte Ourdoor Living Space FAQs
Here are the popular questions homeowners in Charlotte ask our outdoor living space team:
How much should I spend on an outdoor living space?
Budget between $8,000 and $41,000+ for an outdoor living space. The cost varies based on features, such as patio size, firepit, and natural stone accents. Basic setups start at $8,000 for an 8×10 flagstone patio with a firepit and mulch, while luxurious options can exceed $41,000 for a 20×20 patio with custom lighting and stone edging.
What is an outdoor living room called?
An outdoor living area can go by various names, such as a deck, porch, patio, 3-season room, or even a sunroom. Each of these spaces offers a unique outdoor living experience.
Do outdoor living spaces add value?
Absolutely, a well-crafted patio can boost your home's value by 8-10% and offer a return on investment (ROI) exceeding 80%. For those looking for a cost-effective option, refurbishing an existing patio is advisable. The average repair cost is around $1,400, and it can yield an impressive ROI of nearly 500%.
How much square footage is necessary for outdoor space?
For a comfortable outdoor gathering, aim for at least 25 square feet per person. If you're planning to host a party of 15, you'll need a space of approximately 375 square feet. For more relaxed entertaining, a patio of around 550 square feet is advisable.
Outdoor Living Spaces Prices In Charlotte
Enjoy the beauty of nature from the comfort of an outdoor living space designed for you and your family.
Basic Outdoor Living Spaces*
Includes an 8x10 flagstone or sleight patio with grading around it, a firepit, and surrounding mulch.
Average Outdoor Living Spaces*
Includes a 14x16 flagstone or sleight patio with grading around it, a firepit, surrounding mulch, and natural stone work.
High-End Outdoor Living Spaces*
Includes a 20x20 flagstone or sleight patio with grading around it, a firepit, surrounding mulch, outdoor lighting, and custom edge-work with natural stone finishes.
*Prices are averages and may change depending on the size of your outdoor living space and your choice of materials and features. You'll receive an exact quote for your unique outdoor living space during the in-house consultation.
Here's What Our Customers Say…
Growing around ponds and being involved with ponds our entire lives, we are perfectionists and we take a lot of pride in our work. Have a look at what other homeowners like you have to say about working with us.
Give Your Backyard A Glow-Up With An Outdoor Living Space