Expert Pond Construction In Charlotte, NC
Discover Nature's Wonders With The Addition Of A Pond
Passionate professionals serving Charlotte, NC and surrounding areas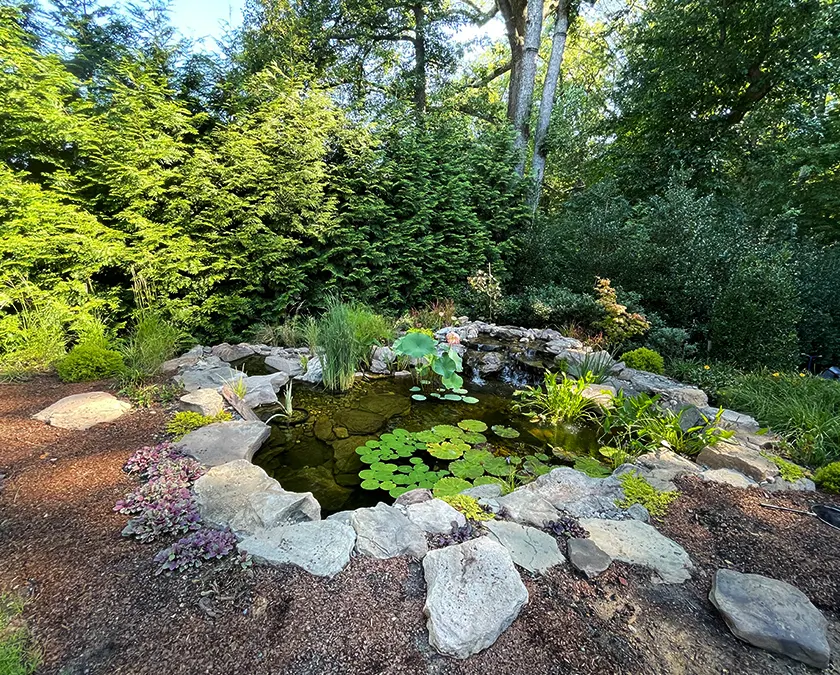 Unwind And Embrace The Beauty Around You
Ponds are a great way to bring natural beauty to your yard. Just steps away from your front door is a lively scene that is uniquely your own. Just imagine the rippling surface of the pond glimmering in the summer sun and the greenery blowing in the wind around you. Feel great as you watch your family enjoying all the special features that make this space a custom relaxation oasis. With just one step into your yard, you'll feel energized and ready to tackle the day.
Ponds come in all shapes and sizes, so you don't have to have a big backyard to enjoy one. Our Charlotte team is here to design and build a pond that is unique to you and your backyard. Choose your favorite plants, fish, and special features, and we'll make sure to put them together into an amazing pond.
A Unique Educational Spot
Ponds are unique aquatic habitats that are brimming with biodiversity, right on your own property! Having a pond in your backyard means you and your family can witness a lively ecosystem of your own.
It's invaluable for your children to appreciate the wonders of nature on a daily basis. Watch them grow as they feed the koi fish and interact with nature in a safe and comfortable environment. 
A pond from Charlotte Backyard Ponds will provide everyone – including your beloved pets – with an excellent opportunity to spend more time outdoors and be more active.
An Easy Process To Your Perfect Pond
We're excited to turn your backyard into a place where you can relax and recharge. The addition of a pond to your home may seem like a big challenge, but we've designed a simple process that guarantees a stress-free experience. Sit back and enjoy how easy it is to transform your home into an oasis.

Fill out our form and describe your ideas the best you can. We'll get back to you with a phone call and discuss your budget, the timeline, and set up an on-site consultation.
Step 2. We Work Our Magic
When everything is in place, we get to work. Our team will bring your vision to life and give you the backyard experience you deserve. While we work on your landscape, we'll always keep you in the loop.
Step 3. Love Your New Pond
When our work is done, we'll do a walkthrough to present your pond to you and check if everything is perfect. Next, we pack up and let you enjoy your newfound oasis.
Enhance your outdoor space with a pond designed specially for you and your backyard.
Includes a 4x6 pond, complete with a pump, filtration system, rocks, and a waterfall.
Average Pond Construction*
Includes a 10x14 pond, complete with an upgraded pump, filtration system, rocks, and an upgraded waterfall.
High-End Pond Construction*
Includes a 20x30 pond, complete with pumps, filtration system, two skimmers or intake bog, rocks, and a double waterfall.
*Prices are averages and may change depending on the size of your pond and your choice of materials and features. You'll receive an exact quote for your unique pond during the in-house consultation.
Here's What Our Customers Say…
Growing around ponds and being involved with ponds our entire lives, we are perfectionists and we take a lot of pride in our work. Have a look at what other homeowners like you have to say about working with us.
Bring the Mesmerizing Beauty Of A Pond TO Your Backyard