Pond Maintenance For Charlotte, NC
Keep Your Pond In Top Condition And Enjoy A Relaxing Oasis
Passionate professionals serving Charlotte, NC and surrounding areas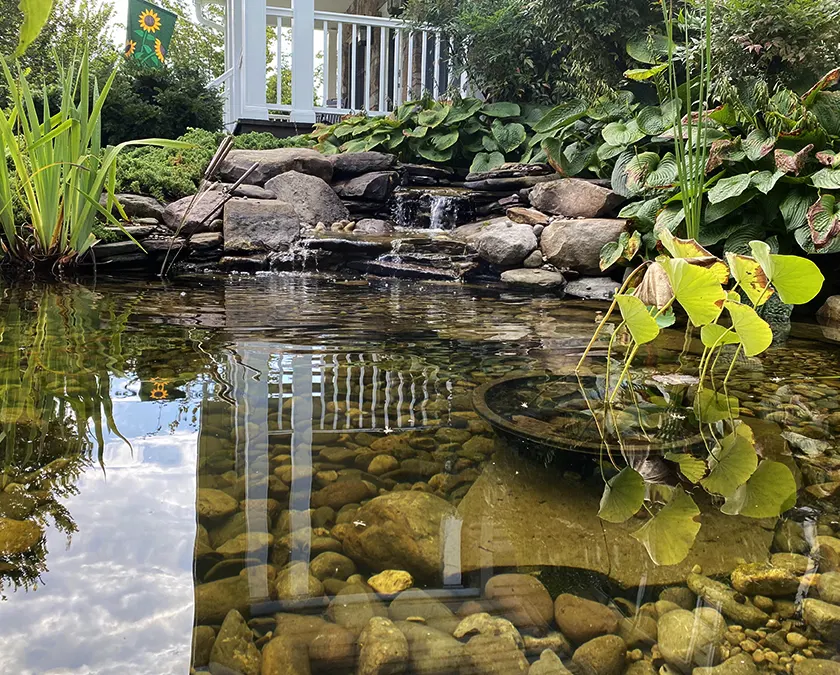 Restore THe Harmony Of Your Pond
When changes in the seasons leave their footprint on your pond, things can start to look unpleasant. Once a clean oasis, your pond may now be struggling with overgrown algae and dirty water.
Cleaning your water feature on a regular basis is a key element that keeps your backyard in top shape. After all, the ambiance that a pond offers can help you be at peace with yourself and the world, so it's important that you care for your pond. Our maintenance packages ensure you'll be able to enjoy a spotless pond through the seasons.
Revel In The SIghts Of A Clean Pond All Year Long
Nothing brightens a backyard quite like a pond. And for you to keep your water feature shining, maintenance is required. A green, dirty pond is not a welcoming sight, not to mention that it's an unpleasant habitat for your fish and critters.
By cleaning your pond regularly you're making sure it's healthy and looking fantastic. With each day that passes, your pond continues to reflect the wonderful colors of the seasons. 
Picture this: a beautiful summer evening near your beloved pond, as you're watching flowers swaying in the wind and birds resting on the gentle surface of the water. Your clean pond is a true oasis. What spectacle may each day hold? That remains for you to find out.
Have Your Pond Looking Its Best Every Season
Keeping your pond looking fabulous regardless of the season can take a lot of work and time, as it requires constant care and attention on a regular basis. Refreshing the water or adding beneficial bacteria helps with keeping a clean habitat for your fish and plants.
But cleaning the filters is imperative to make sure your pond stays healthy and shining all year long. This operation should be done at least 3 times a year for optimal results, but most times it can prove to be tedious and unpleasant work to do by yourself.
Why not take that worry off your shoulders and let us do all the hard work for you? We'll inspect your pond and offer you dedicated assistance regarding its upkeep, so that you can keep your water feature in perfect shape for the long term.
An Easy Process To Your Spotless Pond
We're excited to turn your backyard into a place where you can relax and recharge. Making sure that your pond stays clean and healthy may seem like a big challenge, but we've designed a simple process that guarantees a stress-free experience. Sit back and enjoy how easy it is to transform your home into an oasis.

Fill out our form and describe the issues you're having with your pond. We'll get back to you with a phone call and discuss the best course of action. We'll also set up an on-site consultation to come and assess your pond.
Step 2. We Work Our Magic
All our maintenance projects start with a full drain and clean of your pond. Next, we check the  infrastructure, the liner, and the systems of your pond. We also provide a detailed report of our findings, along with our expert recommendations.  
Step 3. Love Your New Pond
When the maintenance work is done, we'll have a post-job walkthrough where we check every detail. We'll also share with you all the information you need to sustain your water feature and keep it looking fresh for longer.
Show your pond some love and give it the maintenance it needs to be able to amaze you through the seasons.
Complete drain and clean of a 6x8 pond, assessment and education of existing infrastructure, and recommendations for improvement if necessary.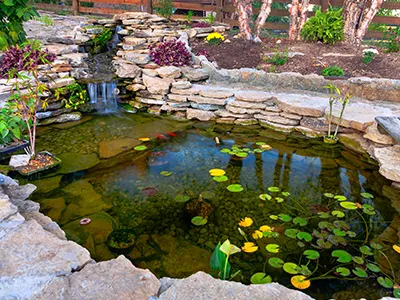 Average Pond Maintenance*
Complete drain and clean of a 10x14 pond, assessment and education of existing infrastructure, and recommendations for improvement if necessary.
High-End Pond Maintenance*
Complete drain and clean of a 20x30 pond, assessment and education of existing infrastructure, and recommendations for improvement if necessary.
Full Year Pond Maintenance*
Professional cleaning and maintenance services for qualifying water features, so you can have complete peace of mind regardless of the season.
All full-year clients get 1 complimentary service call a year with membership. Seasonal maintenance services are available a la carte.
*Prices are averages and may change depending on the exact size of your pond, the state of it, and any other issues that we might need to address as we clean out your pond. You'll receive an exact quote for your unique pond during the in-house consultation.
Here's What Our Customers Say…
Growing around ponds and being involved with ponds our entire lives, we are perfectionists and we take a lot of pride in our work. Have a look at what other homeowners like you have to say about working with us.
Keep Your Pond Spotless All Year Long