A koi pond can transform the entirety of your outdoor space into a peaceful place to rest and recharge. These ponds offer unmatched beauty and a unique opportunity to connect with the natural world. If you're interested in finding koi pond ideas for the yard on your property, this article will cover the basics and some ideas to make your koi pond unique and stunning. 
While there are various ways to add water features to your yard, none are quite as unique and tranquil as a koi pond. While fixtures like swimming pools or hot tubs can be appealing, the experience of relaxing next to a beautifully designed small pond can be exceptionally refreshing.
What You Need for a Koi Pond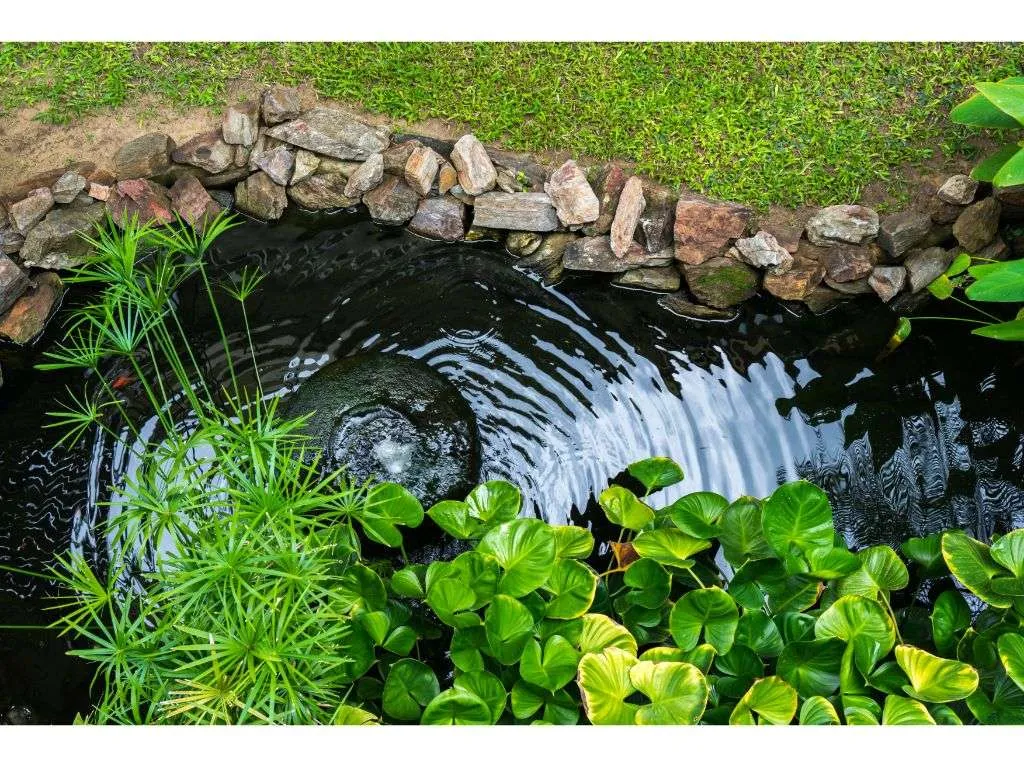 While koi ponds can be an excellent addition to any home's property, there are a few things to consider before beginning the project. Koi fish are unique animals that hail from a different natural habitat, so it's essential to make sure they are comfortable and healthy in their new home. The following sections will cover some fundamental aspects of koi ponds to keep in mind.
Proper Depth
For koi fish to live a healthy and happy life, they need to be in a pond with a sufficient amount of depth. The pond doesn't have to be too deep, but it's essential to ensure the water is at least three to four feet deep. This depth ensures the koi have enough room to live and ensures the pond does not freeze solid during the winter, which will harm your fish.
Proper Temperature
If you're considering a koi pond, you may be wondering if the climate in North Carolina is suitable for these animals. Fortunately, koi fish are quite resilient and can survive even freezing temperatures by hibernating below the ice. However, koi fish prefer cooler water, so ensuring that your pond gets plenty of shade during the summer can be an excellent way to keep your fish comfortable.
Clean Water
While koi ponds appear completely natural when appropriately designed and installed, technology still plays a significant role. To maintain a healthy ecosystem in your koi pond, you'll need to keep the water clean and circulated. This task requires a few different appliances, including a filter and skimmer to keep the water clean and a pump to ensure the water does not stagnate. 
Fortunately, if you're considering a koi pond for your Charlotte, NC, home, Charlotte Backyard Ponds can help. With years of experience installing koi ponds and other water features in the Charlotte community, the team at Charlotte Backyard Ponds can handle every step of the process and ensure your koi pond is fully healthy and functional.
Ideas to Create the Perfect Koi Pond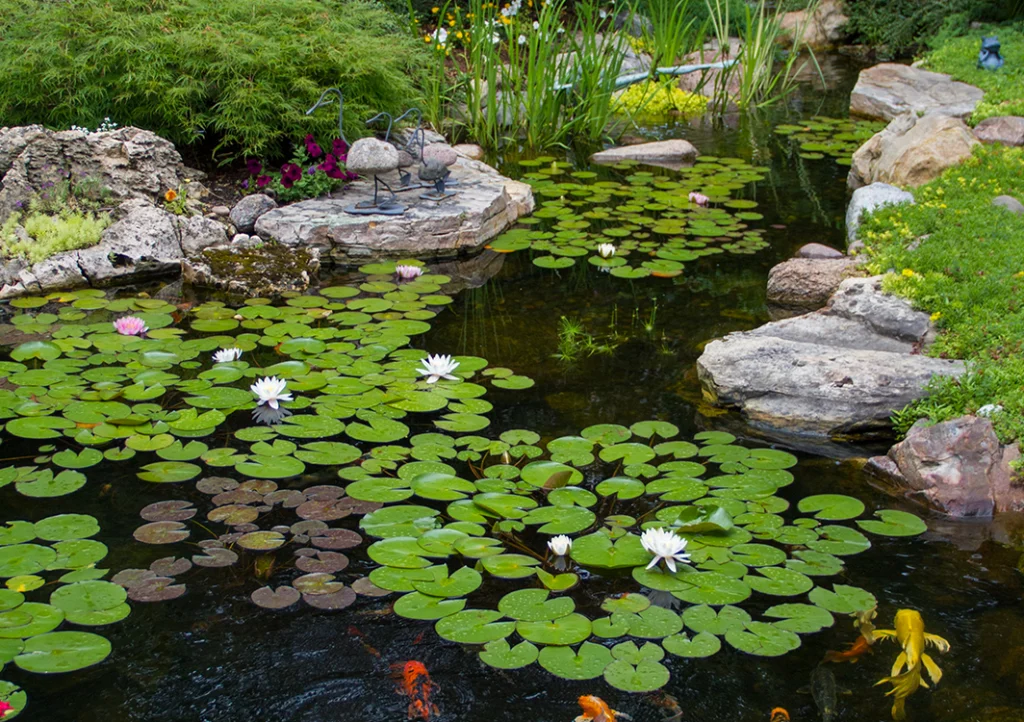 Now that you know the basics of creating a healthy habitat for koi fish in your yard, it's time to start planning your pond. With the help of an expert installer, there are a variety of unique koi pond designs available to American homeowners. Read the following sections to learn how to make the koi pond in your yard genuinely breathtaking.
Seating
One way to maximize the benefits of a koi pond is by creating a comfortable seating area around it. A pleasant, shady spot near the pond can make an excellent place to eat, work, or relax. The site is also perfect for hosting guests, who will appreciate the opportunity to enjoy the natural beauty a koi pond creates.
Glass Walkways
Homeowners interested in taking the water features in their yard to another level of luxury and style should consider a glass walkway over their pond. These walkways are popular with modern homeowners and give residents an incredible view of the water and fish below. A glass walkway can help your koi pond truly stand out and is well worth the cost.
Waterfalls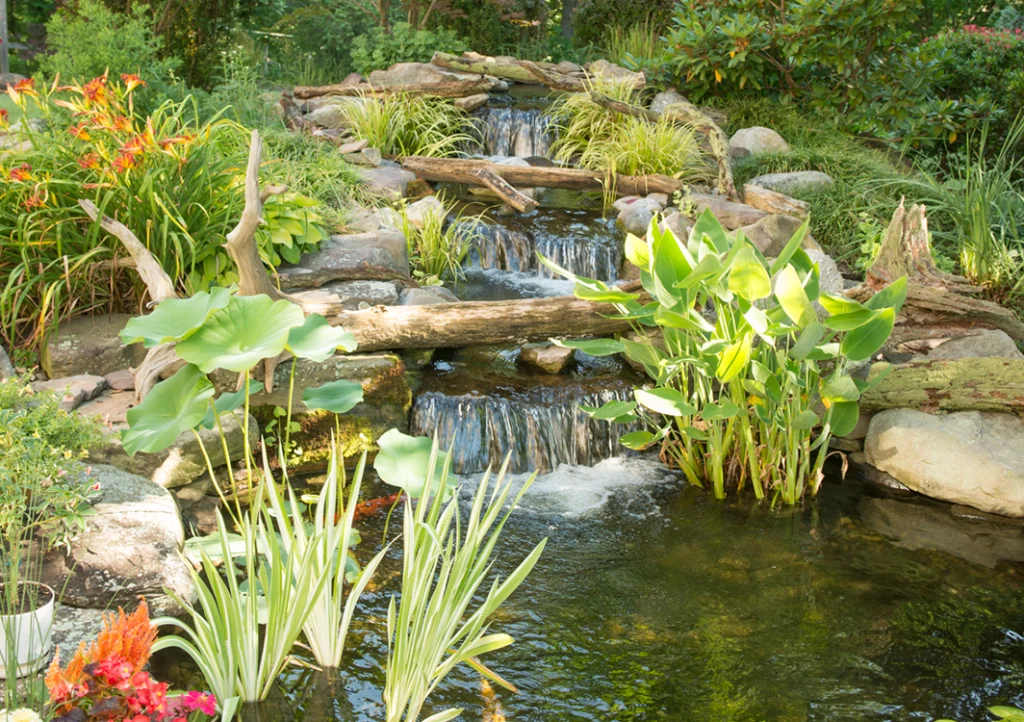 The sound of water flowing and bubbling is genuinely beautiful and can be incredibly comforting in times of stress. Additionally, waterfalls can give the koi pond an even more natural and pleasant effect. By adding one or more small waterfalls to their koi pond, homeowners can add a stunning touch to their yard.
Aquatic Garden
An underwater garden can be an incredible way to add a splash of color to your fish pond. The aquatic plants available for these gardens vary wildly in color and shape, so homeowners can create unique effects by choosing the specific plants they want. However, when placing these plants into a fish pond, residents should consider that the fish may eat some of the plants and plan accordingly.
Yard Takeover
The final koi pond idea on our list, yard takeover ponds, is the grandest. With a yard takeover koi pond, homeowners can transform their entire backyard into a natural wonderland. These installations are extensive and immersive, granting the illusion of being deep in nature, even if only a few feet from your home. As long as the design includes effective paths and walkways, a yard takeover pond is ideal for homeowners looking for a true refuge from the stress of everyday life.
Get Started
A koi pond or other water fixture can be a valuable addition to any backyard, improving aesthetic appeal and reducing stress. Additionally, installing a koi pond gives homeowners an excellent opportunity to express their creativity and style by designing the ideal pond for their home. 
By reading this article, you've learned about multiple koi pond ideas that can create a stunning look in any backyard. So if you're excited to get started with your koi pond project, Charlotte Backyard Ponds can help. 
With years of experience providing gorgeous ponds and water features to the Charlotte community, Charlotte Backyard Ponds is the perfect option to bring your koi pond ideas to life. We know the area, so we'll make it easy for you to learn how to maintain and care for your pond and are always available to make repairs. So if you're ready to start your koi pond project in Charlotte, NC, fill out Charlotte Backyard Pond's contact form today.